Why Need A Chinese Website?
Strategically building a Chinese website can unlock huge market potential. China has the most internet users, creating a golden opportunity for foreign brands and services.
Foreign brands are revered by Chinese consumers for their quality and prestige. This perception can boost brand credibility. Localized websites can instantly boost your brand's image and build trust among Chinese consumers.
Having a Chinese website helps foreign companies connect with local customers. Respecting their language and culture strengthens the bond. It also lets companies tailor content and offerings to local tastes and trends, improving customer satisfaction.
The Chinese digital landscape is unique. Their social media platforms include WeChat, Weibo, and Baidu. Optimizing your online presence on these platforms with a Chinese website can boost visibility and reach.
Additionally, China's e-commerce industry is booming. Consumers now shop online more often in the country. A Chinese website simplifies transactions, making it easier for customers to buy your products.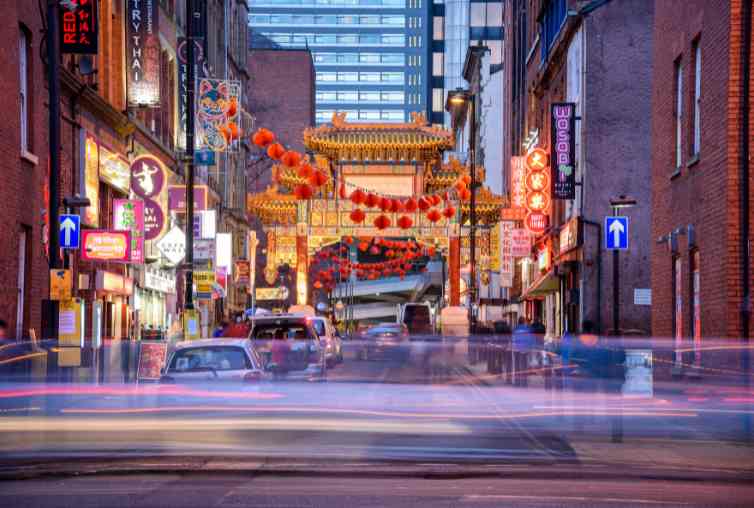 Want to take a quick look? Check this video!
How to pick a domain?
Choosing a domain name for your Chinese website is crucial to your online success. Top-level and secondary domains are the main types.
The most common top-level domains are.cn and.com.cn. Like.us and.uk,.cn is China's country code top-level domain (ccTLD). Chinese internet users trust it, making it a great choice for businesses targeting this market. However, the.com.cn domain offers the best of both worlds: global recognition of.com and local appeal of.cn.
Secondary domains like cn.yourdomain.com are another option. Create a Chinese content section using these subdomains of your primary domain. It lets you handle multiple markets with brand consistency.
Choosing a domain name involves many factors. Make it simple to remember and type. Avoid unusual spellings and complex words that may confuse your audience. Second, link it to your business or industry. Search engine visibility can be improved by including product or service keywords. Finally, verify its availability and trademark compliance to avoid legal issues.
In conclusion, whether you choose a top-level or secondary domain, choose a name that resonates with your target audience, matches your brand, and boosts your online visibility.
Registering .cn domains?
Registration of a.cn or.com.cn domain can be complicated for non-Chinese residents, but it's possible with the right approach. This process is explained step-by-step:
The first step is to find a.cn or.com.cn domain registrar. Many international registrars offer it. Choose a reputable one with good customer and technical support.
Make sure your domain name is available after choosing a registrar. Remember that domain names should be relevant, simple, and memorable.
Documentation: You'll need documentation to register a.cn or.com.cn domain. A copy of a government-issued ID like a passport and a signed letter of intent explaining your domain request are usually required. Always check with registrars about additional documents.
Send Your Application: After gathering all the documents, submit your registration application to the registrar. They will then send your application to CNNIC, which manages.cn domains.
After submitting your application, CNNIC must approve it. This can take days or weeks.
Once your domain registration is approved, you can set up your website. Content should be tailored to your audience to increase traffic and engagement.
Remember that each registrar has slightly different procedures, so it's important to communicate with them. Despite the challenges, a.cn or.com.cn domain can boost your Chinese business.
Prepare these documents and files when registering a.cn domain.
Chinese government requirements must be met to register a.cn domain. These regulations ensure China's digital landscape is legal and controlled.
Companies must provide a company registration certificate to register.cn domains in China. This document verifies your company's legitimacy.
Individuals must provide a copy of their ID or passport. This requirement makes domain registration transparent and links each domain to a real person or entity.
The entity must be government-related to register a.gov.cn third-level domain. This ensures authenticity and trust by restricting this domain extension to government agencies.
Non-Chinese companies need a trade license scan or copy. This requirement verifies foreign companies' digital presence in China.
Foreign companies can sometimes meet these requirements with a Certificate of Good Standing or Business Registration Certificate. These documents prove your company is registered and operating in its home country.
Remember that registration can take up to 7 working days and last 1 to 10 years. A.cn domain can have 1–63 characters.
Finally, while the process may seem rigorous, these measures protect China's internet space by ensuring that each.cn domain is accountable, traceable, and legitimate.
Where to host Chinese websites?
Hosting a website in China has special requirements. To protect its digital ecosystem, China has implemented regulations and certifications. Internet Content Provider (ICP) licensing is crucial.
Operating a mainland China website requires an ICP license. Hosting your website on a Chinese server requires a state-issued registration number. The Ministry of Industry and Information Technology (MIIT) website accepts ICP license applications. Note that the ICP license requires a Chinese citizen's ID or a Mainland China-registered business license.
With an ICP license, you can host your website in China. Several reputable hosting servers are Aliyun, Tencent, and Huawei. These providers offer different packages and services, so compare to find the best one.
When targeting the Chinese market, registering and hosting your site in China can be beneficial. You can improve website performance, including load times and user experience for Chinese visitors. It can also boost your website's visibility on Baidu, which prioritizes locally hosted websites.
In conclusion, hosting a website in China may require additional steps and regulations, but the potential benefits make it worth considering for businesses seeking a strong online presence in China.
Which CMS for a Chinese website?
The nature and purpose of your Chinese website will determine the best CMS (Content Management System). Each CMS has pros and cons.
WordPress is a good choice for a content-heavy website to promote your products or services. WordPress's user-friendly interface, flexibility, and extensive plugin ecosystem let you add many features to your site. Importantly, WordPress supports multilingualism, making it suitable for Chinese language websites.
WordPress with WooCommerce or Shopify are good eCommerce platforms. WooCommerce turns your WordPress website into an online store. Very customizable and integrates well with WordPress. Shopify, a standalone eCommerce platform, is easy to set up, secure, and has great customer support. They support Chinese and other languages.
Dedecms may be better for deeper integration into Chinese digital ecosystems. China's robust and adaptable CMS Dedecms is popular. It integrates well with local services because it's designed for China.
Finally, your CMS should match your business needs, technical expertise, and audience. WordPress, Shopify, WooCommerce, and Dedecms each have advantages. To make an informed decision, consider these factors and possibly consult a web development expert.
Hosting server providers like Aliyun and Tencent offer website content management systems, but they may not be the best option for website customization. These CMS platforms are designed to work seamlessly with their hosting services but may limit your site customization.
WordPress is more flexible and customizable. Its vast library of plugins and themes can help you build a website that matches your brand and business goals. WordPress's user-friendly interface makes website management easier for non-coders.
Another benefit of WordPress is its large online community. This means if you have any issues or need help customizing your site, someone may have solved it online.
WordPress's source code is open-source and can be customized to create a more personalized website. This is a major advantage over hosting server suppliers' proprietary CMS platforms, where users cannot edit the source code.
Finally, Aliyun and Tencent's CMS platforms may be convenient and well-integrated with their hosting services, but WordPress offers more flexibility and customizability. WordPress may be better for your website if these factors matter.
How to multilingualize our website with Chinese?
There are several ways to add Chinese to your website. Use a translation plugin like GTranslate. GTranslate can automatically translate your site into multiple languages, but it may not be suitable for Chinese audiences.
The reason is GTranslate uses Google's translation API. GTranslate's Chinese translations may not work for mainland Chinese site visitors because Google's services are blocked there. GTranslate is subscription-based, which may increase your operational costs.
WPML may be better. You can add Chinese translations to your WordPress site and WooCommerce store with WPML. WPML works with most WordPress themes and plugins, so it fits seamlessly into your setup.
GTranslate is an annual subscription, but WPML is a one-time purchase. This makes it cheaper over time. Since you can manually or professionally translate content, WPML provides a more accurate translation. This ensures your Chinese content is culturally and syntactically correct.
In conclusion, GTranslate is an easy way to add multiple language options to your WordPress site, but WPML may be better for adding a Chinese language option due to its cost-effectiveness, compatibility, and the Chinese digital landscape.
Setting the payment gateway for your Chinese ecommerce store?
Knowing China's popular payment methods is essential when setting up payment gateways for your eCommerce store. The most popular Chinese payment platforms are Alipay and WeChat Pay. Regulatory requirements make it difficult to integrate these payment methods directly into your website.
You can use a third-party online payment company that accepts these methods to overcome this. The company Payssion is recommended. Payssion, a global payment solution provider, supports Alipay and WeChat Pay, allowing businesses to accept international payments.
Integrating Payssion into your eCommerce site lets Chinese customers pay with their preferred method, improving their shopping experience and potentially increasing sales.
Sign up for a Payssion merchant account, set up your payment preferences, and embed their payment gateway into your website to integrate. WordPress and Shopify sites can use plugins to do this.
Finally, using a third-party payment solution provider like Payssion can make it easier to integrate Alipay or WeChat Pay to your site despite regulatory and technical issues. Doing so lets you accommodate Chinese customers' payment methods and boost eCommerce sales.
How to market in China?
China's digital ecosystem and consumer habits make marketing different from Western countries. These strategies may help your business succeed in this vast market.
Video Marketing on Douyin: As TikTok outside China, Douyin is a leading short-video platform with millions of users. Create creative Douyin videos to reach a large audience and boost brand awareness. To create audience-friendly content, you must understand platform trends and user behavior.
Content marketing on Little Red Book and Weibo involves creating useful and engaging content for a specific audience. Little Red Book (Xiaohongshu) is a popular social media and e-commerce platform for shopping tips and product reviews. Weibo is a Twitter-like microblogging site. Content marketing on both platforms can educate, entertain, and engage your audience.
KOL (Key Opinion Leader) Marketing: Chinese KOLs influence their followers' purchases. Live video shows with KOLs can boost credibility and follower base. People in China love watching KOLs unbox or demo products on live streaming.
SEO and Guest Posting: China's largest search engine, Baidu, requires website optimization. In addition to keywords and meta tags, guest posting on popular Chinese websites can boost SEO traffic. This builds backlinks and establishes your brand as a niche expert.
To succeed in China's digital market, you must understand local consumer behavior, popular platforms, and current trends. Your ability to adapt to the dynamic Chinese market will determine how well you execute the above strategies.
How to do SEO in China?
Chinese SEO focuses on Baidu, the country's most popular search engine. Due to their different algorithms and ranking factors, Baidu SEO and Google SEO differ greatly.
Google prioritizes content quality, but Baidu's algorithm prioritizes backlinks. Although Baidu values content quality, its ranking algorithm prioritizes backlinks.
Baidu also allows link exchanges, where two websites exchange links to boost their backlinks. Thus, China has developed link exchange tools to facilitate this process.
Tools.chinaz.com offers a comprehensive and free Baidu SEO tool. It provides backlink analysis, keyword research, site speed test, and more to optimize your website for Baidu.
Baidu SEO relies on backlinks, but they should be built naturally. Your website's reputation and rankings may suffer from excessive link exchanges, especially with low-quality sites. Thus, your Baidu SEO strategy must balance content quality and backlink profile.